When it comes time to change your spark plugs, it can be difficult to know which ones are best for your vehicle. If you have a Ford Flex, there are a few specific spark plugs that you should consider using.
Use only spark plugs that meet Ford's strict material and design requirements, like Motorcraft or other equivalent replacements. If you don't use these parts, your customer warranty may be voided if the engine becomes damaged.
Spark Plugs I Would Pick For My Ford Flex
Don't have time to read the entire article? No problem! Here's a quick rundown of the best replacement spark plugs for each engine – simply pick yours and get on your way.
09/12/2023 05:21 pm GMT

What Spark Plugs Does Ford Flex Use
In this table, I have collected information on all engines of all generations of the Ford Flex. Ford recommends using Motorcraft parts, as this is their official division that manufactures parts. This means that they are 100% suitable for all the requirements of your car.
Source: Ford Flex Owners Manual
Best Spark Plugs For Ford Flex
If you have a Ford Flex, the best spark plugs to use are Motorcraft. This is because they are designed specifically for this car and meet all of the requirements that Ford has put in place. But you can also use some equivalent replacement spark plugs, as long as they are of the same quality and design.
These spark plugs also provide excellent performance and reliability without any issues. They are long-lasting as well so you won't need to worry about changing them often.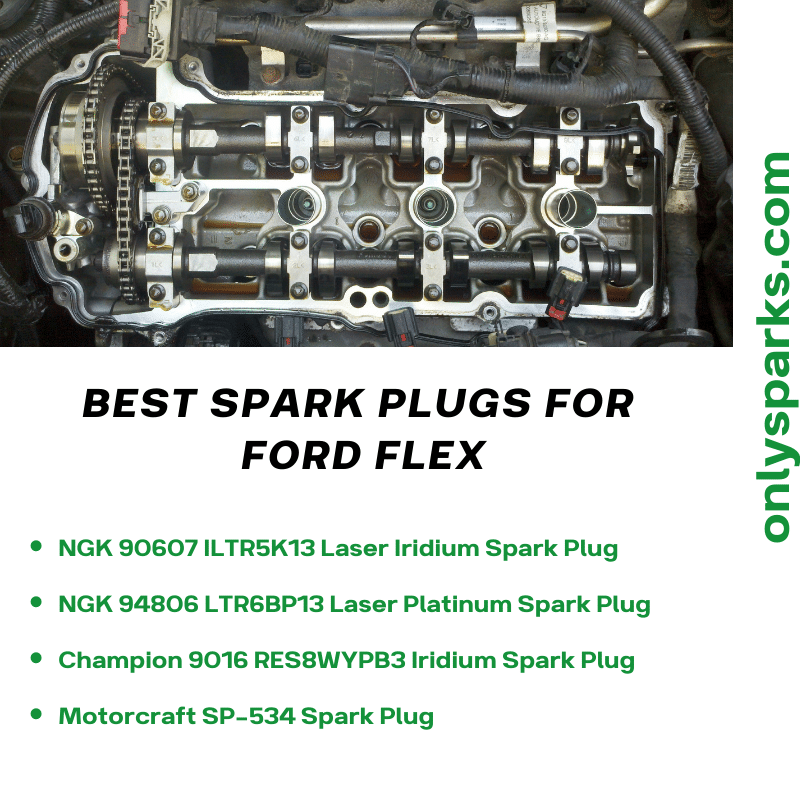 2009-2012 Ford 3.5 Spark Plugs
2010-2014 Ford 3.5 EcoBoost Spark Plugs
2013-2019 Ford 3.5L Duratec Spark Plugs
2015-2019 Ford 3.5L Twin-Turbo EcoBoost Spark Plugs
Does It Matter What Brand Spark Plug I Use?
When it comes to spark plugs, it does matter what brand you use. You should always choose reliable brands made for your particular car model and engine type, so as not to void any warranties or damage your engine. Motorcraft is the best choice for Ford Flex since they meet all the necessary requirements. But some other alternatives may work just as well if you don't have access to Motorcraft parts.
If you're looking for the best fuel economy, I suggest opting for Platinum and Iridium spark plugs from NGK. These plugs combine platinum electrodes with an iridium alloy center electrode to deliver improved corrosion resistance and longevity. They also provide better cold starting capability and reduced emissions when compared to traditional copper spark plugs.
How Often Should Ford Spark Plugs Be Changed?
Your Ford Flex spark plugs should be replaced every 80,000 miles. This is just a guideline – if you notice any issues with your car's performance or fuel economy, it might be best to change them sooner.
Read Also: How to Gap Spark Plugs for Optimal Performance
What Are Signs That Your Car Needs New Spark Plugs?
If you notice any of the following symptoms, it could be time to change your spark plugs:
Decreased engine performance or acceleration
Poor fuel economy
Engine misfiring
Rough idling
These are all signs that your spark plugs may need to be changed. It's best to get them replaced as soon as possible so you can restore proper engine performance.