Toyota Camry owners looking for the best spark plugs for their vehicle need look no further! This article will discuss the different types of spark plugs available and which are best suited for your car. So whether you're a Toyota Camry owner looking to upgrade their spark plugs or just curious about what's available, read on for more information!
Spark Plugs I Would Pick For My Toyota Camry
09/13/2023 12:56 am GMT

What Spark Plugs Does Toyota Recommend?
Do you want to find out which spark plugs are best for your Toyota Camry? In the following table, I have compiled information on all of the factory-recommended spark plugs for every year of the Toyota Camry engine. Regarding quality, it's always ideal to stick with original Genuine Toyota spark plugs.
Moreover, this chart also contains details about the recommended gap size between the plug and its electrode – making it easier than ever before to choose a suitable set of spark plugs for your vehicle quickly and easily!
Source: Toyota
Best Spark Plugs For Toyota Camry
Undeniably, the best spark plugs for a Toyota Camry are those manufactured by Denso. However, exploring alternative options is prudent and can often offer cost savings or extended performance life. Ultimately, comparing various alternatives will enable you to make an informed decision that benefits your car in the long run.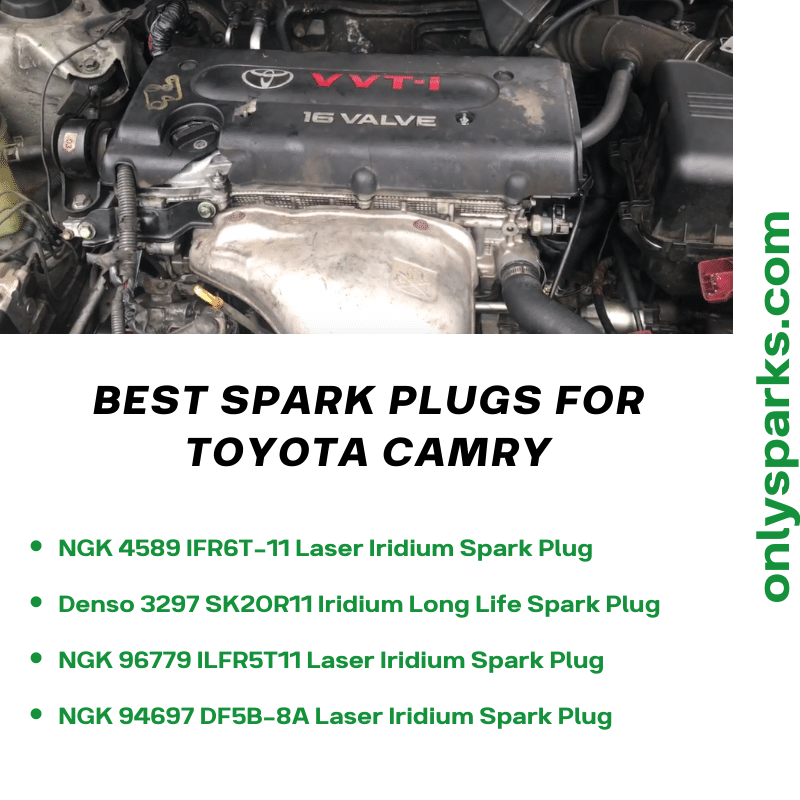 1997-2004 Toyota Camry Spark Plugs
These spark plugs fit every engine of this generation.
Reading Suggestion: Heat Range Of NGK Spark Plugs
2005-2006 Toyota Camry Spark Plugs
These spark plugs fit every engine of this generation.
Toyota Camry 3.5 2GR-FE Spark Plugs
Toyota Camry 2.5 2AR-FE Spark Plugs
Toyota Camry 2.5 2AR-FXE Spark Plugs
Toyota Camry 2.5 A25A-FKS Spark Plugs
Toyota Camry 3.5 2GR-FKS Spark Plugs
How Often Should Spark Plugs Be Changed Toyota Camry?
Toyota recommends spark plug replacement at regular intervals and as part of routine maintenance. This interval can range from 30,000 to 120,000 miles depending on the Toyota Camry engine type.
To get peak performance from your car and maximize fuel economy, it's essential to adhere to a strict schedule for spark plug replacement. The lifespan of each spark plug is listed in its product description, so you can easily figure out when they need replacing regardless of the mileage on your vehicle. Keeping up with this practice will keep your engine running smoothly!
How Many Spark Plugs Does A Toyota Camry Need?
Your Toyota Camry will require four spark plugs for most models. To double-check the correct number of spark plugs required for your Toyota Camry, refer to the owner's manual or check with a Toyota dealer.
How Much Do Toyota Spark Plugs Cost?
Toyota spark plugs can range from $3.50 to $15 each, depending on the type of spark plug and Toyota Camry you own. The cost of replacing all four spark plugs typically ranges from $20.00 to $90. It's best to purchase Toyota OEM parts for your car as they offer better performance potential than aftermarket options and come with a warranty in case of any defects or damage.
Is NGK Better Than Denso?
While NGK and Denso spark plugs provide excellent quality, Denso's product selection for Toyota Camry engines is far superior. When it comes to the longevity and reliability of these two brands, there would be no big difference between them.
Oftentimes Denso's spark plugs last longer, while NGK offers better performance. Ultimately, it comes down to personal preference and the type of Toyota Camry you own when selecting the right brand for your vehicle.
Are NGK Spark Plugs Good For Toyotas?
NGK spark plugs can be a good choice for Toyota vehicles. They offer excellent performance potential and quality while also sometimes being much cheaper than Toyota OEM parts. The only downside is that they may not last as long as Toyota's stock spark plugs but can still provide good value for money.